Metallic Color Schemes
From wedding dresses to stationery, linens to cakes, expect to see a lot of gold and silver next year! Adding a little gold sparkle will make any design "POP".




Art Deco
Inspired by The Great Gatsby (both the book and the 2013 movie), we're expecting to see lots of 1920s-era décor and themes in 2014. Wedding Paper Divas has released a few new designs.




Unique Entertainment
Photobooths have been popular at weddings for a while now, but expect to other types of "alternative entertainment" next year. We're thinking Slow-Motion Video Booths, I Spy or Mad Libs, lots of lawn games, and much more! Check out some of our favorite guest entertainment ideas here!

Halter Neckline Wedding Dresses
See ya later, strapless! Halter necklines were all over the runways this season. It's a great look for brides who want to show off some gorgeous shoulders.

Radiant Orchid
Pantone just announced the Color of the Year for 2014, and it's Radiant Orchid – a pretty pinky-purple that is a beautiful hue for wedding décor. Purple was the hot hue a few years back, so is it making a comeback? We'll soon find out!

Custom Hashtags
Gone are the days of placing disposable cameras on guest tables – now it's all about the Instagram hashtag as a means of collecting guest photos! Couples are creating signs to inform guests of their Instagram hashtags (#nickandsara for example) so that all of the photos of their wedding will be easily accessed.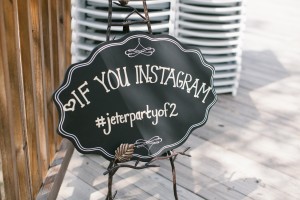 Dahlias

We're predicting that this beautiful bloom will be the hot flower for 2014. They come in a wide variety of colors and create such a lush, unique look!

"Naked" Wedding Cakes

We're not trying to be crass here, but wedding cakes without any icing are becoming a quite the trend for rustic, casual weddings.





Hanging Décor
From lanterns to flowers to ribbons, crepe paper, even parasols – couples are clamoring for décor hanging from the ceiling! It's a striking and dramatic look that turns the traditional centerpiece upside-down!  See our previous blog post for more ideas: http://www.soireebliss.com/2012/08/hanging-floral-decor/





Bridesmaid Dress Color = Mint
Pale green bridesmaid dresses were all over the runways at bridal market, so expect to see this minty fresh color at spring and summer weddings in 2014!

Editorial Content Credit: http://problog.weddingwire.com/index.php/weddingwire/get-ready-for-the-new-year-the-hottest-2014-wedding-trends/